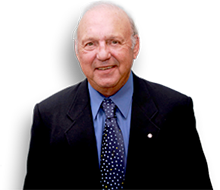 Dr. Roger Clarence Byrd, 79, peacefully passed away at his home in Rochester Hills on October 22, 2020.
Roger was born in Detroit, attended St. Veronica's Catholic School and graduated from Notre Dame High School in Harper Woods. He later received his Bachelor's degree in Philosophy at Wayne State University where he met the love of his life, Mary Jo. After Roger promised he would "show her the world", Mary Jo accepted his proposal and they were married on July 27, 1963. Roger went on to receive his Doctorate of Osteopathy from Chicago College of Osteopathic Medicine. In 1973 he and Mary Jo established their roots in Rochester where Roger opened his dermatology practice. Roger loved what he did every day, and it showed. His patients found comfort and healing not only in his excellent skills as a physician, but also in his gentle and friendly manner. He was known to enter the rooms singing or whistling which put others at ease. Roger was an active member of several medical associations and served as president of the American Osteopathic College of Dermatology. Giving back to the community has been an important part of the life of Mary Jo and Roger. Roger was a long- time member of Rochester Rotary, and a devout supporter of Catholic education. He also served in various chairperson roles at Kingsbury School, where his children attended. He often joked that he was happy to be Mary Jo's assistant in her many charitable endeavors.
Roger was not only passionate about his work, his family, and serving his community, he was also passionate about the game of golf. He enjoyed the peace and beauty of the course, the camaraderie of the time spent with friends, and the challenge of improving his game. True to his promise to show Mary Jo the world, the two of them traveled to many countries and continents; many of those trips included time on the most beautiful golf courses.
One of the oldest of philosophical questions is what is a good life - what does it mean to live well? Roger's life example answered that question. He worked hard to achieve his goals. He used his talent for the betterment of others. He nurtured many loving friendships. He powerfully loved God and his family. He finished his journey to salvation, and he ran it well. No doubt God greeted him with the words, "Well done good and faithful servant."
"Well done, good and faithful servant. . . Come and share your Lord's happiness."
- Matthew: 25:21